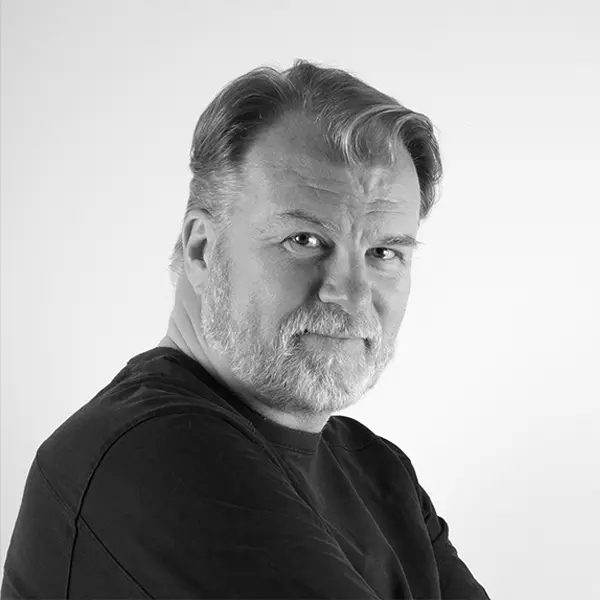 Member of the ADI - Associazione Disegno Industriale, Association of Industrial Designers in Iceland.
He received his diploma in 1992 from the Istituto Europeo di Design, IED in Milan. He has participated in various competition and workshops; European finalist in 1991 in the GE Plastics competition selected for the1991 Experimente exhibition, Frankfurt, finalist in 1993 in the Swiss product design award, in 1996 selected for the Competition Workshop Hiraku-Shimeru" for Union Company (Japan), in 1997 participated in Roraima Workshop promoted by ETNO Design, UNDP (United Nation Development Program) and the Brazilian Government.
During 1999 – 2003 he taught Design Methodology at IED and coordinated thesis projects. Among them a future vision of toys for the LEGO group and social design project for the non- profit organization Emergency together with Ferrini a leading Italian outdoor equipment producer.
Since 2001 he has held lectures about design at the IED, at the MBA program of the University of Iceland, at the MBA program of the University of Reykjavik, at the Iceland Academy of the Arts, at the MBA program of the Politecnico Di Milano - School of Management, at the annual meetings of Imark – the Icelandic Marketing Association, at the annual meetings of NMI – The Innovation Center of Iceland, at Klak – Entrepreneur Innovation Center and at various Fortune 500 companies.
In 1992 he started his collaboration with Design Group Italia as a junior designer and in 1994 became a partner in the studio. Among the clients he has managed are 3M, ABB, Barilla, Blue Lagoon, Kone, Magis, Samsung, Unilever, 66° North, the Icelandic Industry and Tourism Ministry, Pepsico. He has won many awards with DGI among them, BIO 14 - Gold Award, Red Dot Award , IF Design Award, Norwegian Design Award, Good Design Award, International Design Excellence Award (IDEA) and Compasso d'Oro ADI. He has held conferences, been published and been selected for various exhibition with DGI. Among them; in 1992 Design Future Philosophy (Singapore), in 1995 Il Design Italiano - The Italian Design (Milan Triennale), in 2001 Italian design from 1954 – 1998 (Norsk Form Museum), in 2001 the historical Compasso d'oro collection (Milan Triennale), in 2003 1950/2000 Theater of Italian creativity (New York), in 2005 Scandinavian Design Beyond the Myth (Berlin, Milan, Gent, Prague, Budapest, Riga, Glascow, Copenhagen, Gothenburg, Oslo), in 2013 Frontiers of Interaction), in 2015 FOI and Supernova – Innovation Makes Wonder organised by Aib. He has worked with ABB since 1992 first on product design and then on developing a coherent design ID for ABB around the theme of TRUST and how to implement design into the huge product portfolio of ABB. He has worked with Blue Lagoon since 1997 as brand and design strategy consultant. From 2007 until late 2008 he moved to Iceland and became the Managing Director of Blue Lagoon International operations. In early 2009 he moved back to Italy re entering his role as partner of Design Group Italia. From 2012-15 he was Brand Strategy Director of Blue Lagoon and since 2016 is Blue Lagoon's Chief Brand Officer. He lead for DGI the development of "The Retreat at Blue Lagoon" a new luxury hotel and spa.
He has worked with 3M since 2003 first on product design, packaging and brand ID and then later on assisting 3M Design Center introducing design approach for liberating technology and fostering innovation. He has worked closely with PEPSICO Design & Innovation Center since 2012 assisting them in infusing design thinking into the companies culture and new approaches to innovation by design that impacts the company's product platforms and brands.
Apart of his daily activities in Design Group Italia he has been active in exploring and promoting design as a driving force of responsible innovation and social development.
In 2008 he was part of the singer Björk's http://nattura.info/ project. A desire for a renewal in discussion and debate on Icelandic resources; a desire for bridges between different spheres of knowledge, news, composition and productive ideas on self-sustainable evolution, on cluster of start-up companies and other ways than heavy industry. A continuous workshop involving the leading Icelandic thinkers in different fields to propose new vision for Iceland.
During his stay in Iceland he was active in promoting design thinking and was one of the founding father of "Vatnavinir (Waterfriends)" http://www.vatnavinir.is/home, a trans disciplinary think tank of designers, architects, philosophers, marketers, strategists that explores alternative development and has got several international recognitions such as the "Global Award for Sustainable Architecture 2011 " by the LOCUS foundation and selection for the Oslo Triennale 2010 - Man Made Environment.
Another project out of this activity is "Iceland of Health", http://www.icelandofhealth.is a project done in collaboration with the government and the traveling sector for promoting health and wellness tourism in Iceland.
In 2011 he was appointed to lead The Icelandic Government Committee to create a national Design Policy for Iceland with the objective of stimulating innovation by design in the economy.
Early 2012 he created together with The Icelandic National Broadcasting Service and 3 Icelandic designers a TV format for social participation design. During the summer 2012 the first 4 episodes where aired with him in the role of chief designer.
In March 2013 after less than a 2 year process a national Design Policy for Iceland was approved by The Icelandic Government and agreed to start the implementing process and further detailing of the actions suggested by the Committee,
The process of defining the policy has been a co-design process among 11 design associations (ranging from fashion design to architecture to landscape and product design).
In 2017 he created a Design Sprint module for use in the "Growth Train Accelerator for food and health" http://growth-train.dk build by Dr Eythor Jonsson professor and lecturer at CBS. He lives in Milan and travels extensively.