Design specification
Project name: PELLE HOTEL
Project location: Liuyang, Hunan
Project area: about 5000㎡
Main material: marble, wall cloth, metal, leather, etc
The ground floor lobby provides an ideal transition space that takes guests away from the busy streets and opens them up to a wonderful hotel experience. Through the matching choice of materials, the choice of corporate colors, and the customized metal background wall, a veritable artistic journey is formed to explore the connection between local and human, nature and art, reality and imagination.
Large floor-to-ceiling Windows in the dining room bring in plenty of natural light. The sunshine and bright colors reflect the warmth of the log wind and bring the lyrical style of comfortable life. The overall dining scene removes the overly sensible cold tone, and embraces each body tired on the journey with a warm light brown tone.
The standard meeting scene of business hotels must meet the pursuit of "efficiency", in line with the frequent and immediate domestic business activities. But the firm and gentle envelope in the space can soften every sharp business negotiation.
The value of hotel space lies in the enjoyment of living in it, not in the simple decoration and rigid division. Therefore, we tease out rich life scenes as much as possible in a large enough space. Back to their own private space, the room equal functional ratio (washing → rest entertainment → work), can be arbitrarily switched, every detail is perfectly continued meticulous needs to create.
The retro blue and orange colors collide with each other and spread throughout the space, which not only represents the vitality of "new life" but also forms an impression of companionship with nature. There is no noise, in the interaction has its own poetry. From the wall to the desktop, the warm texture makes the whole space have a precipitating temperament.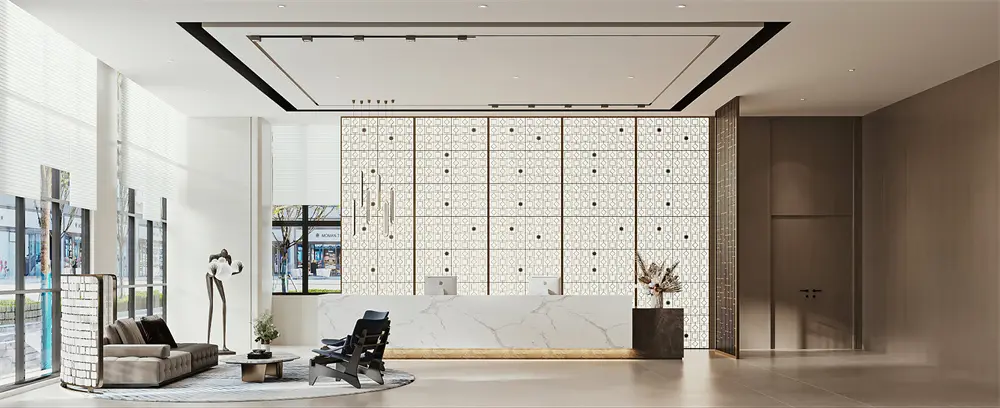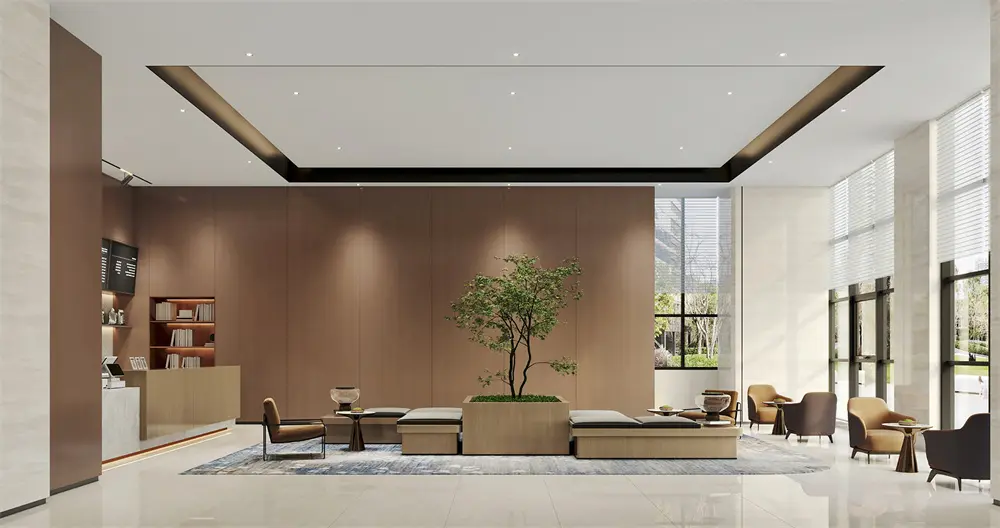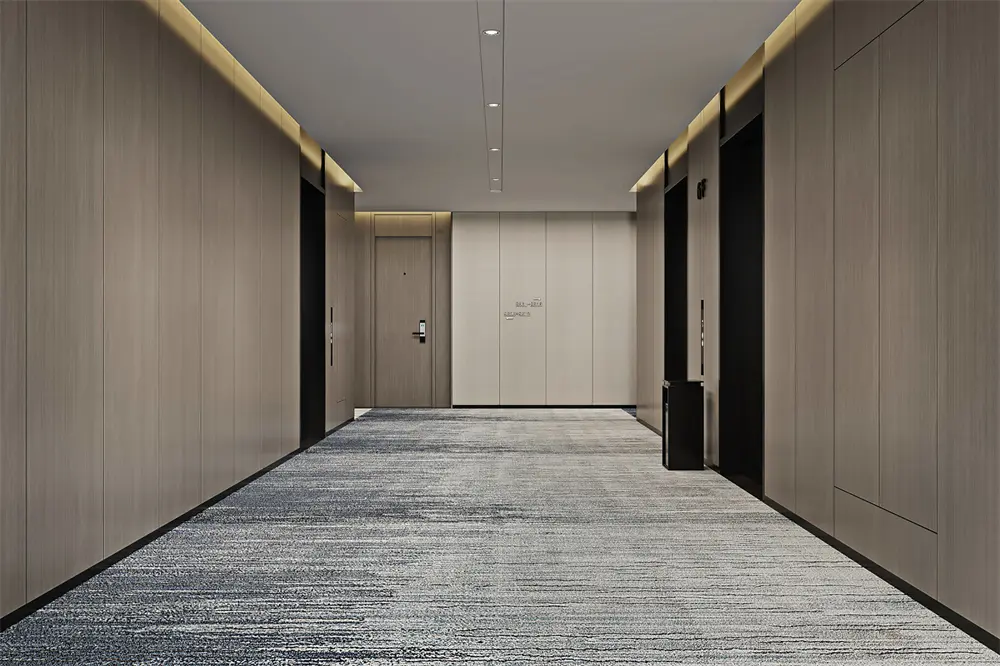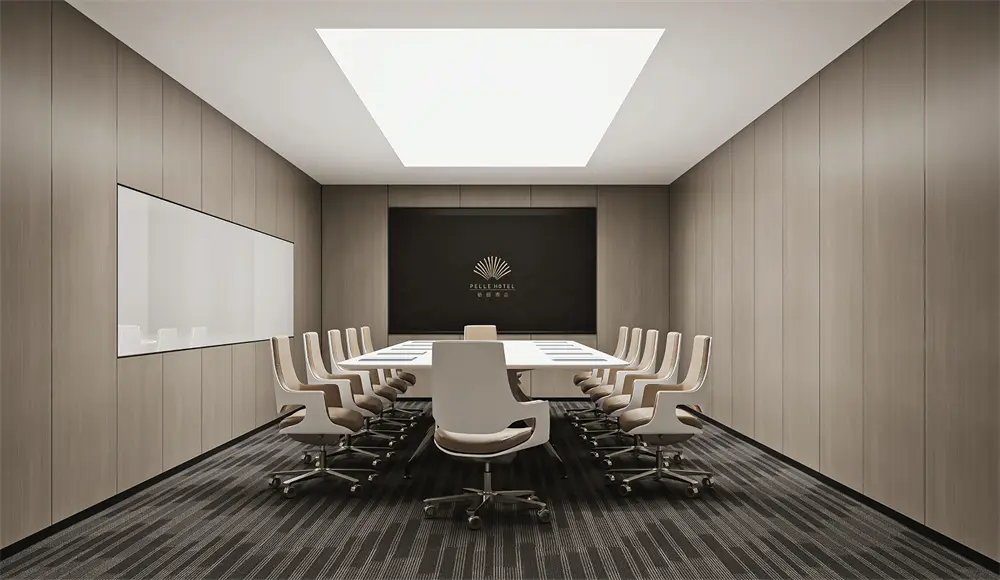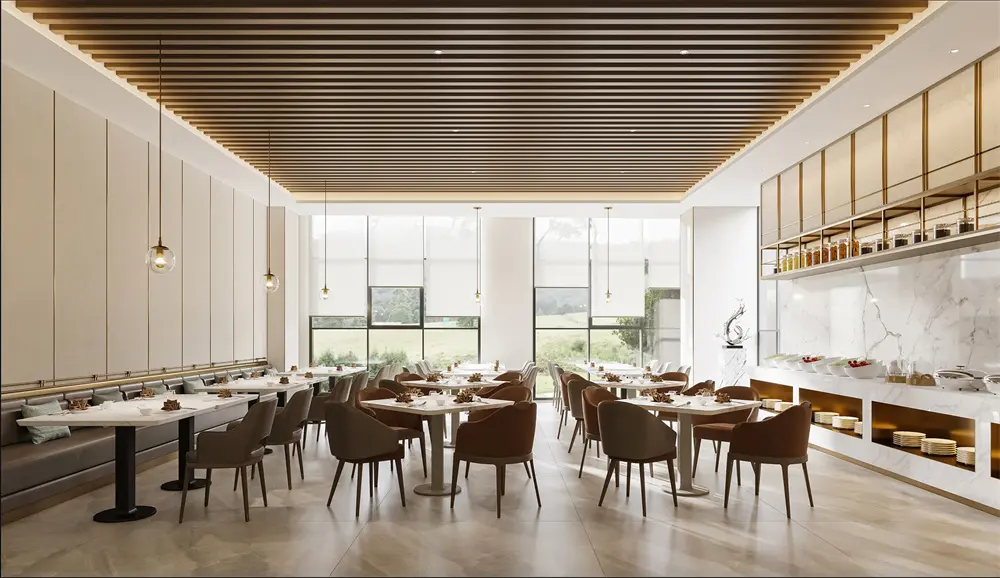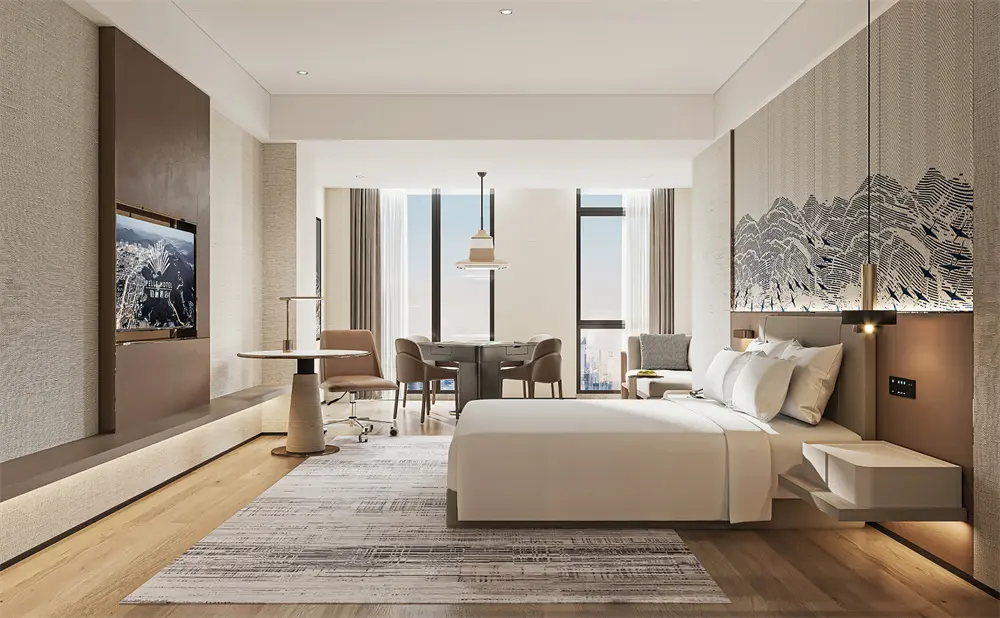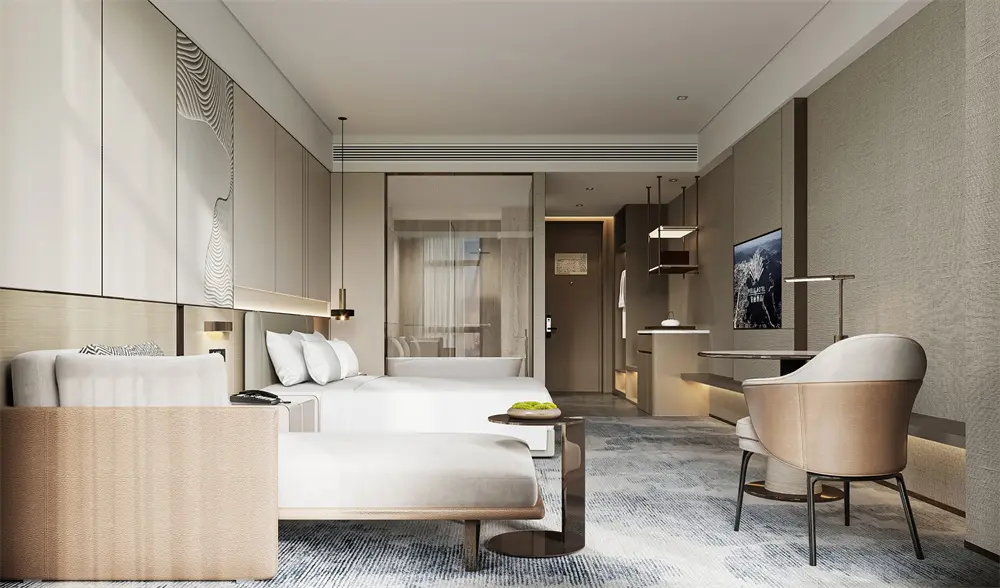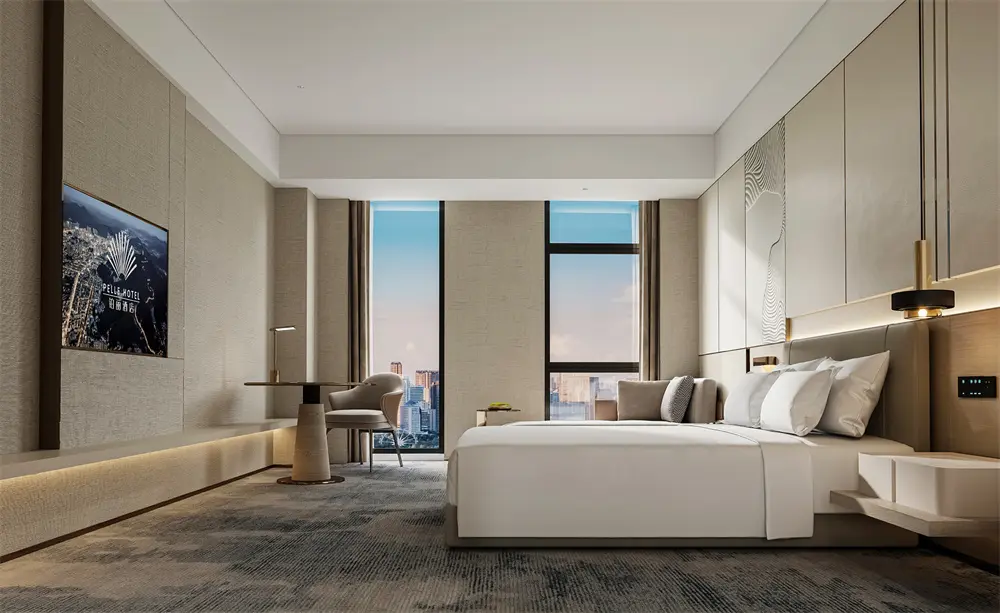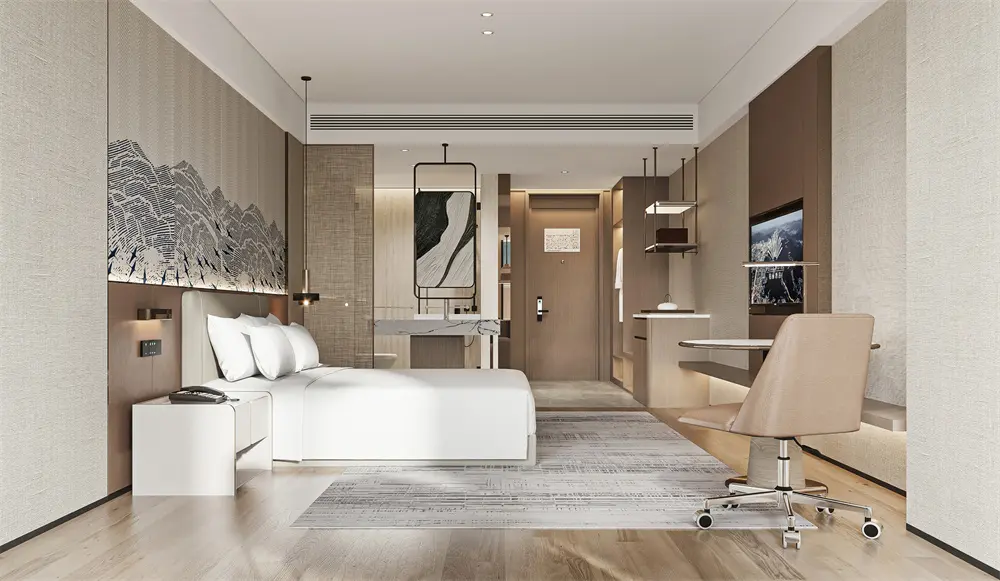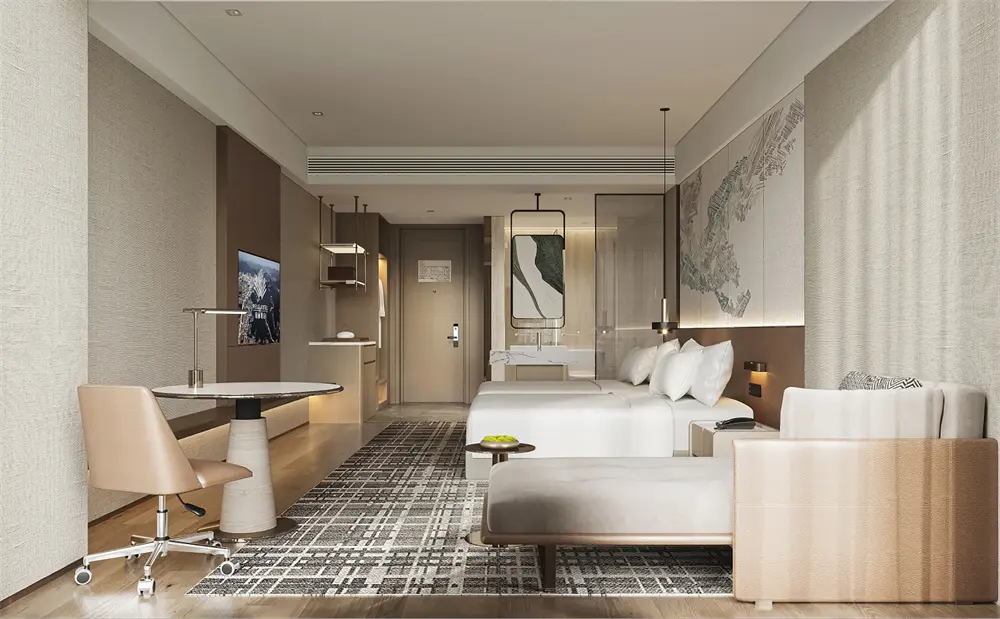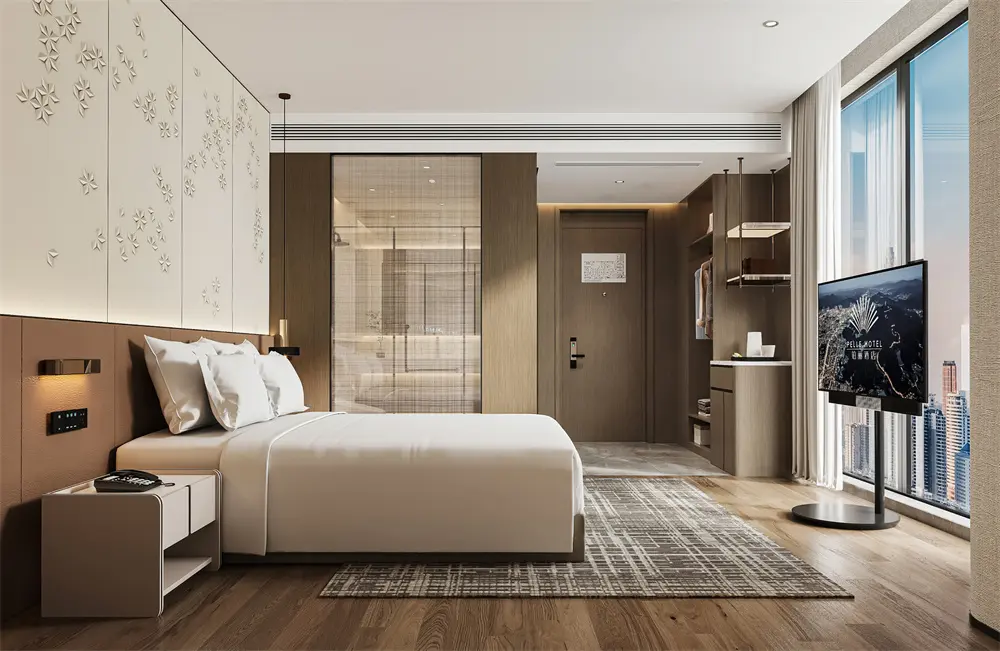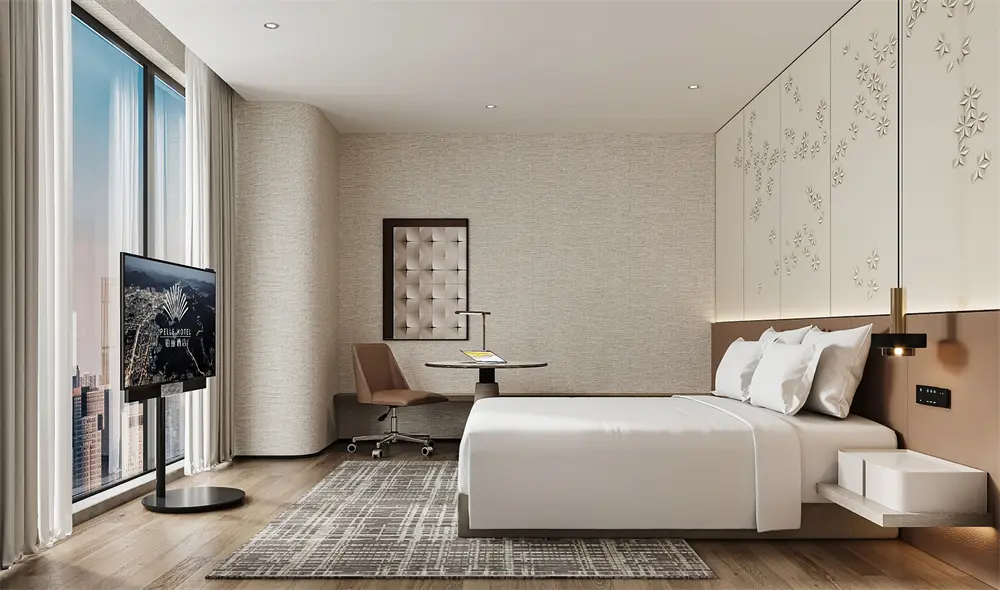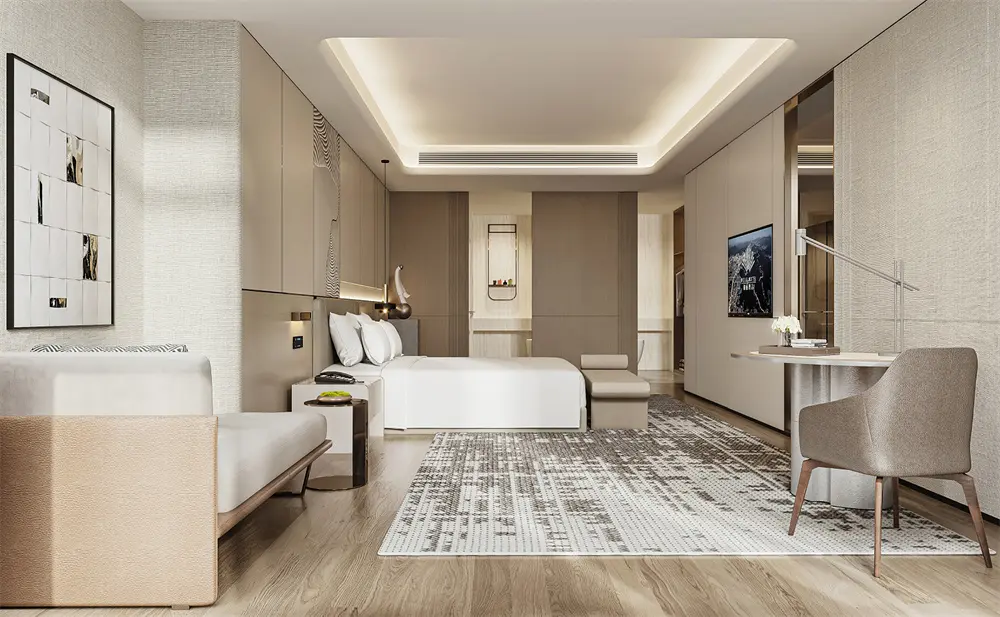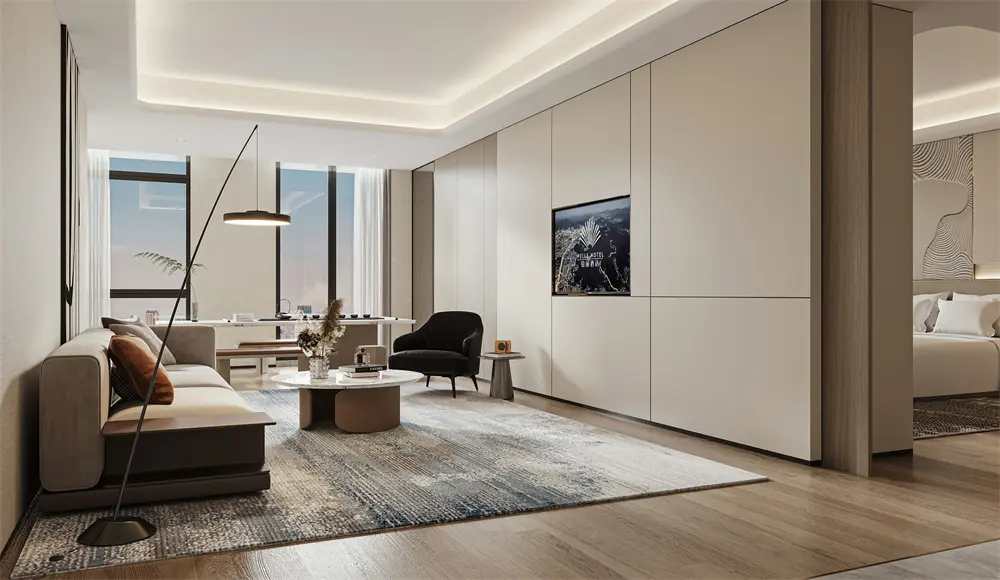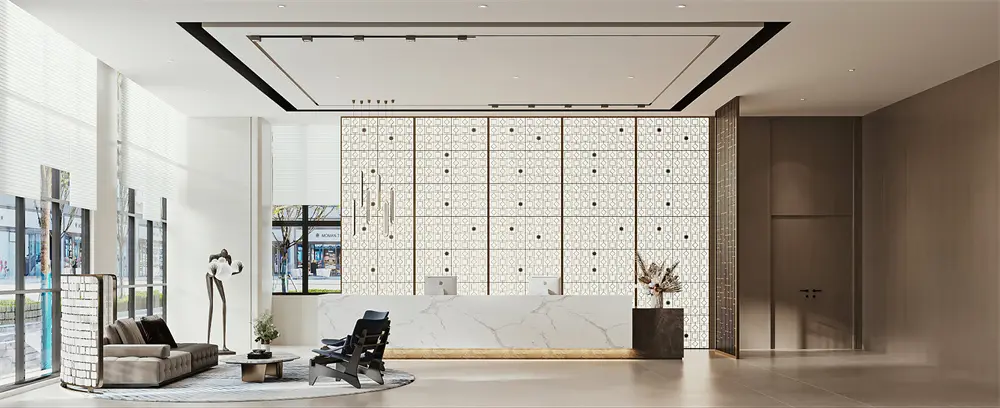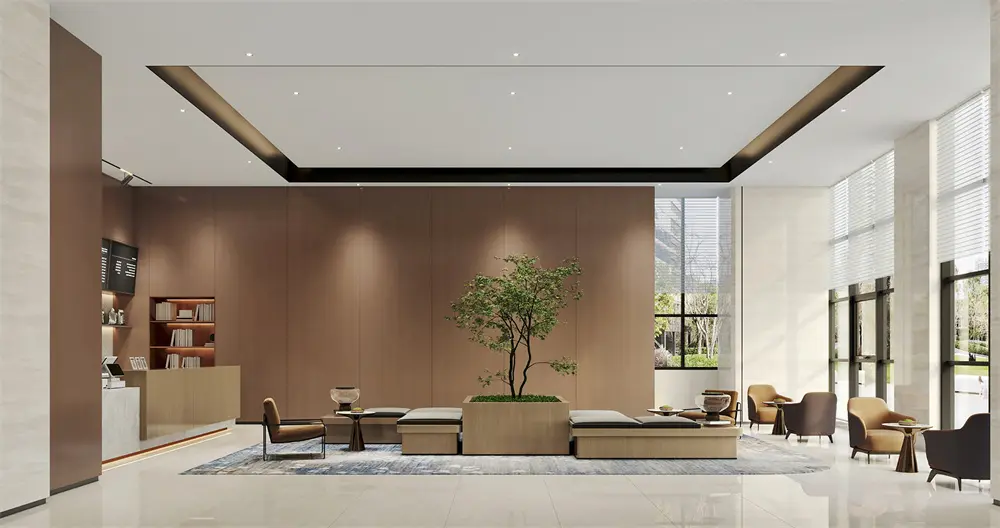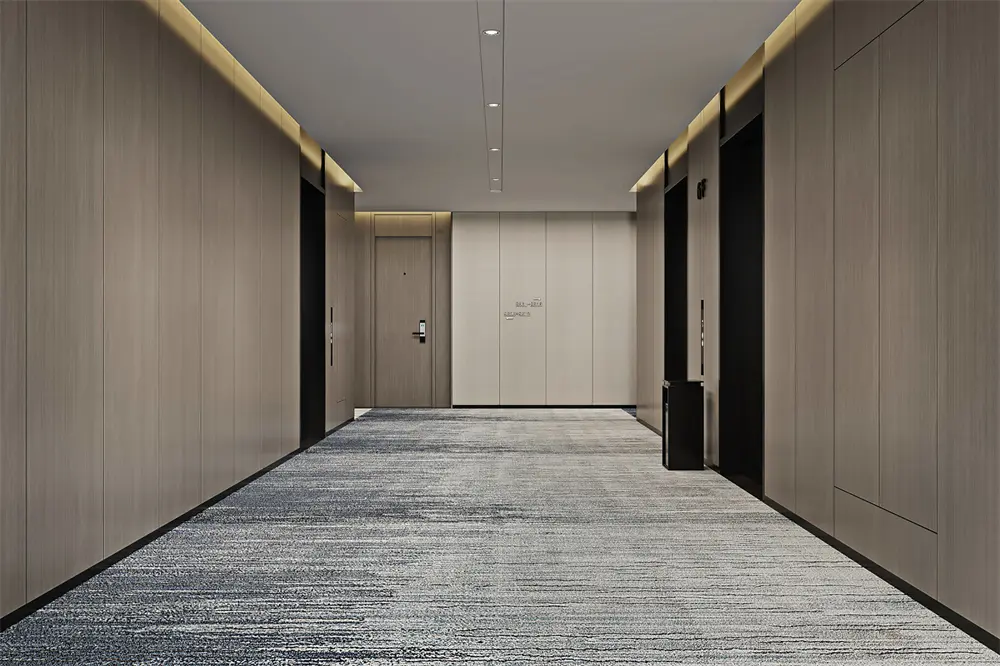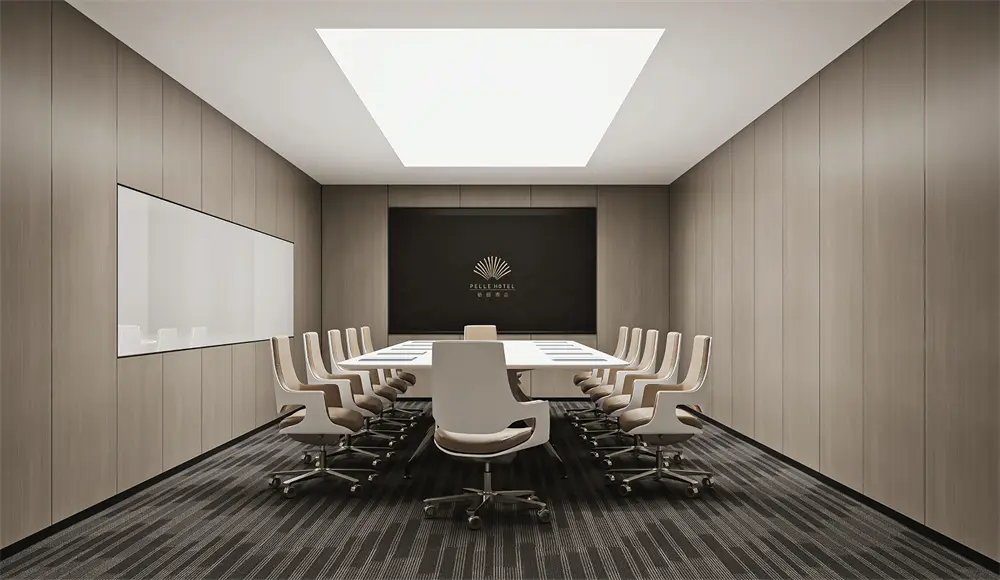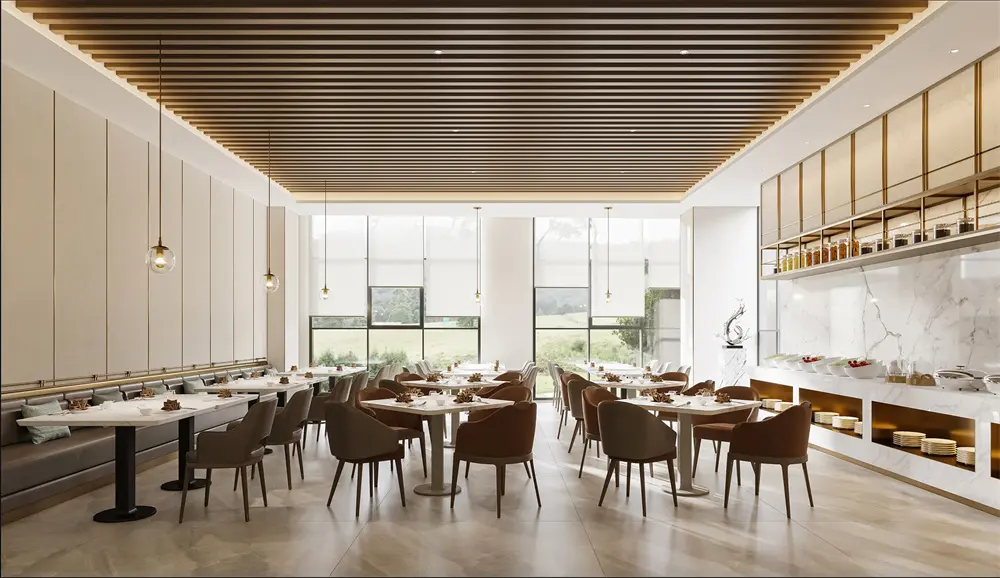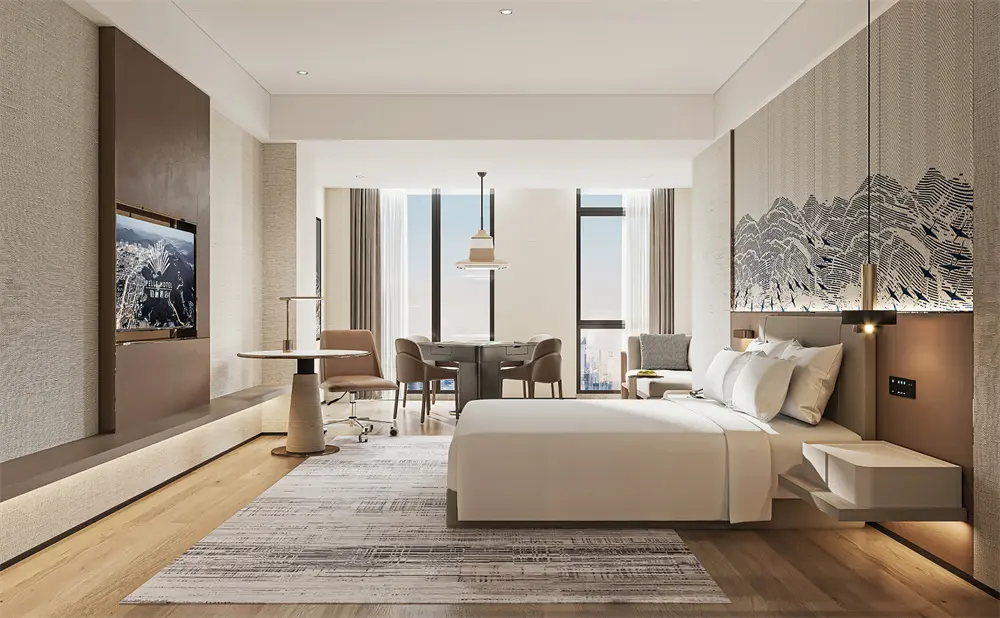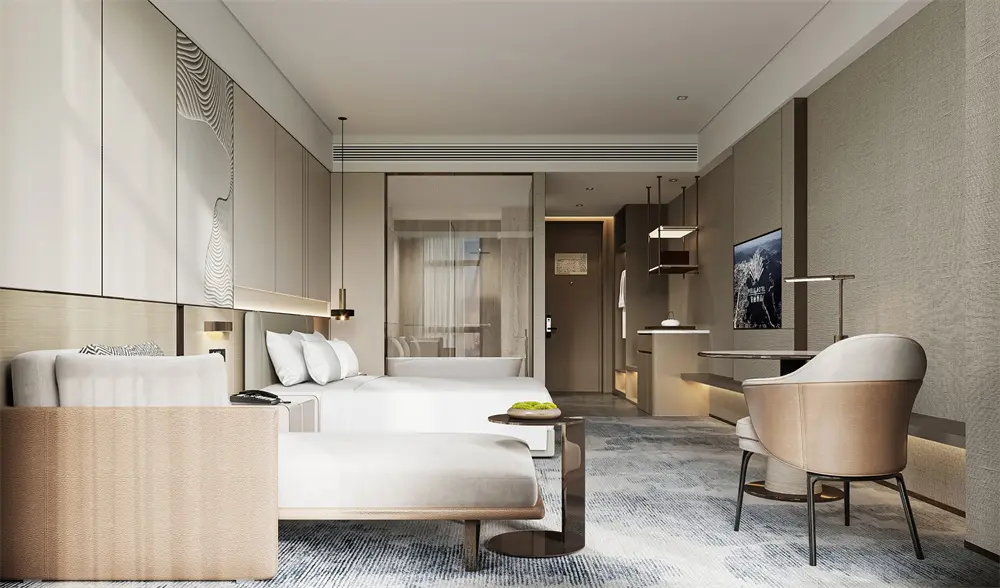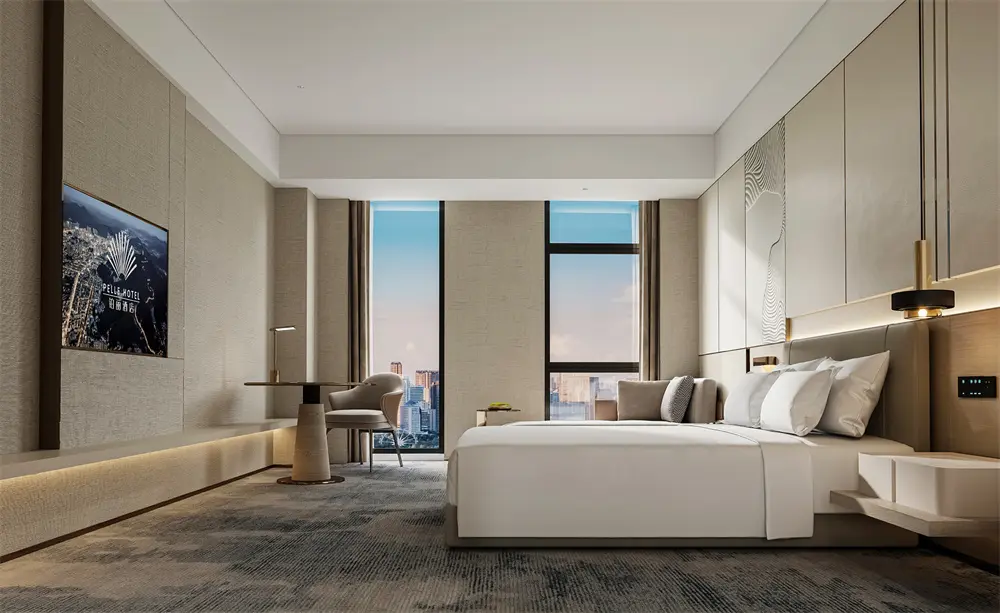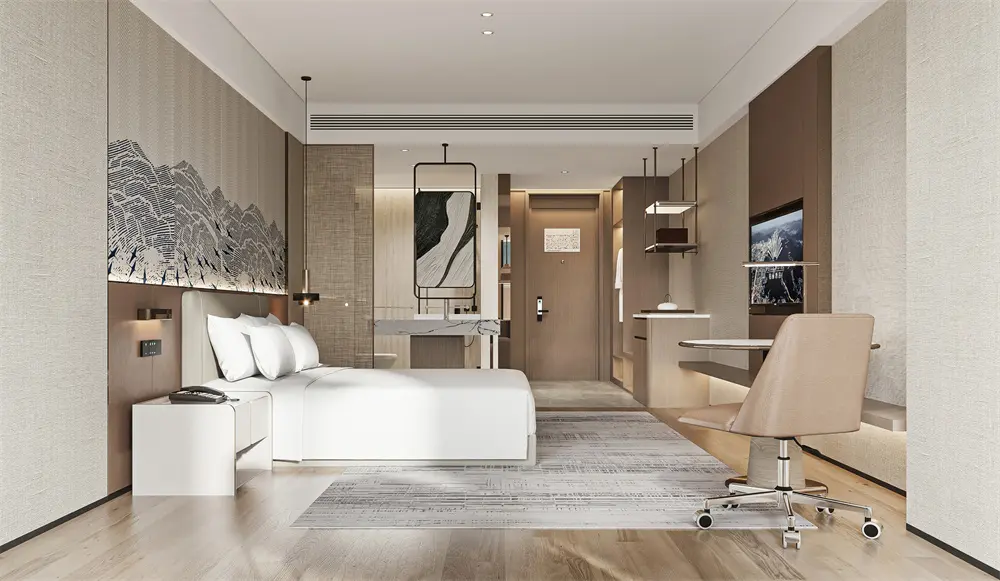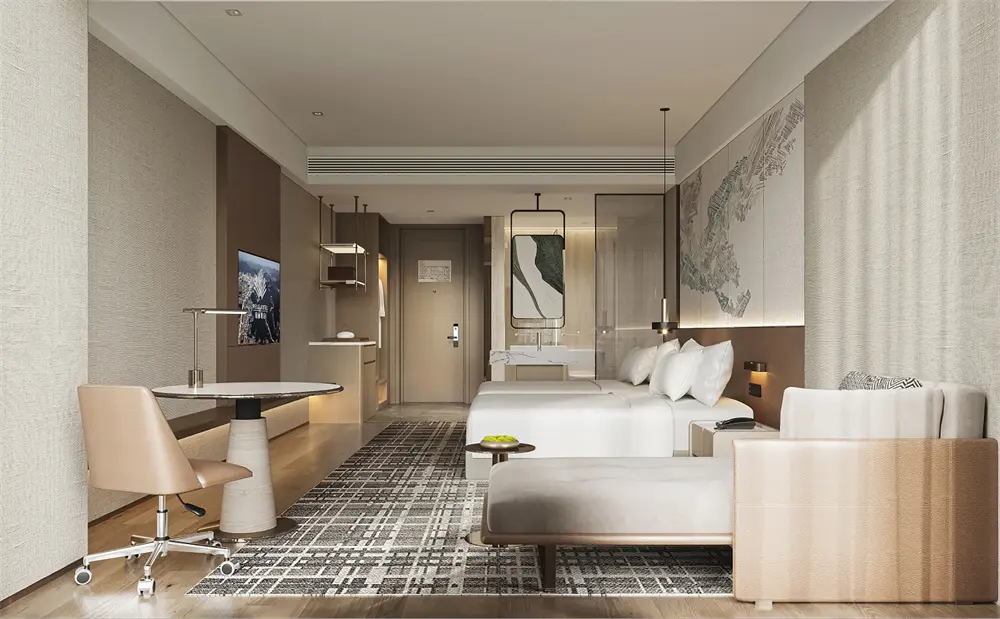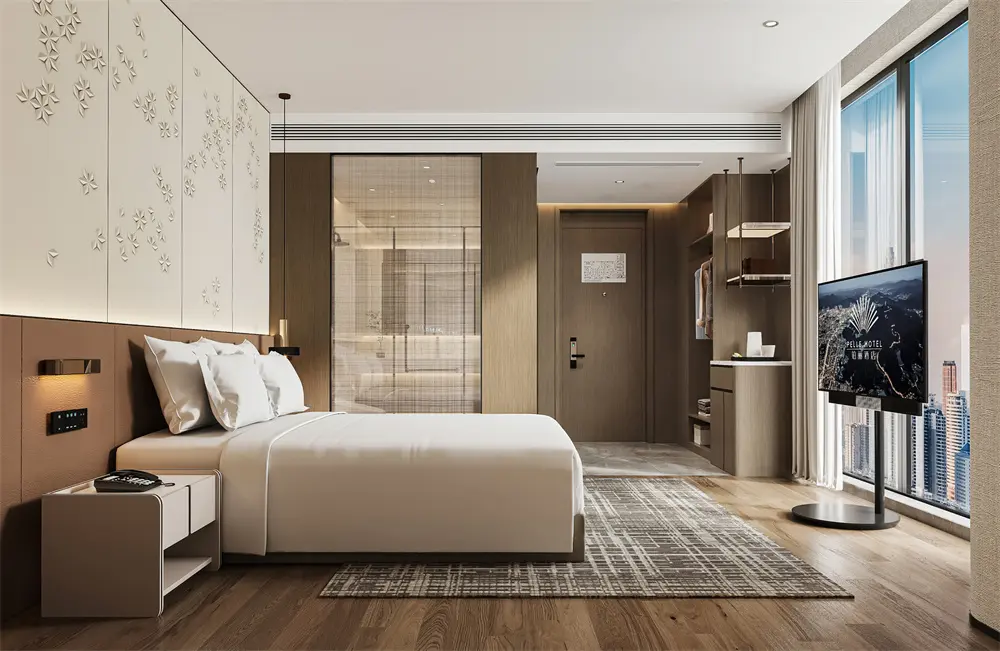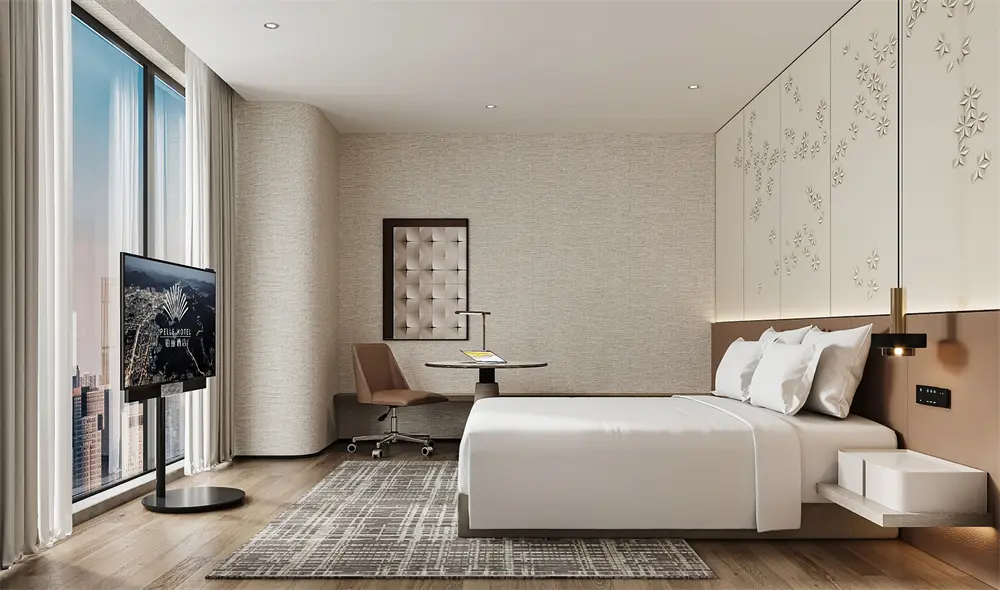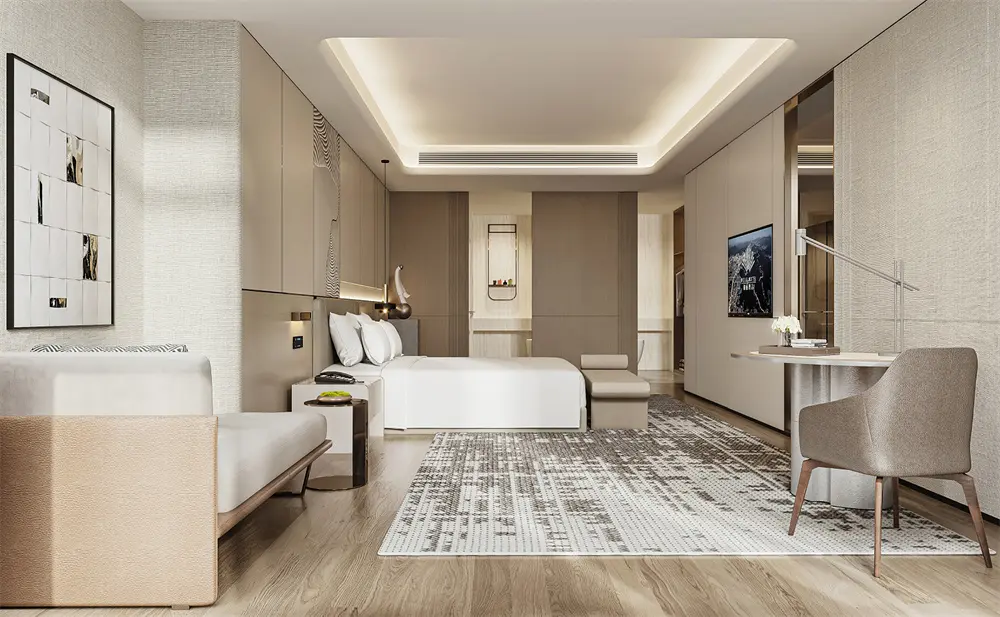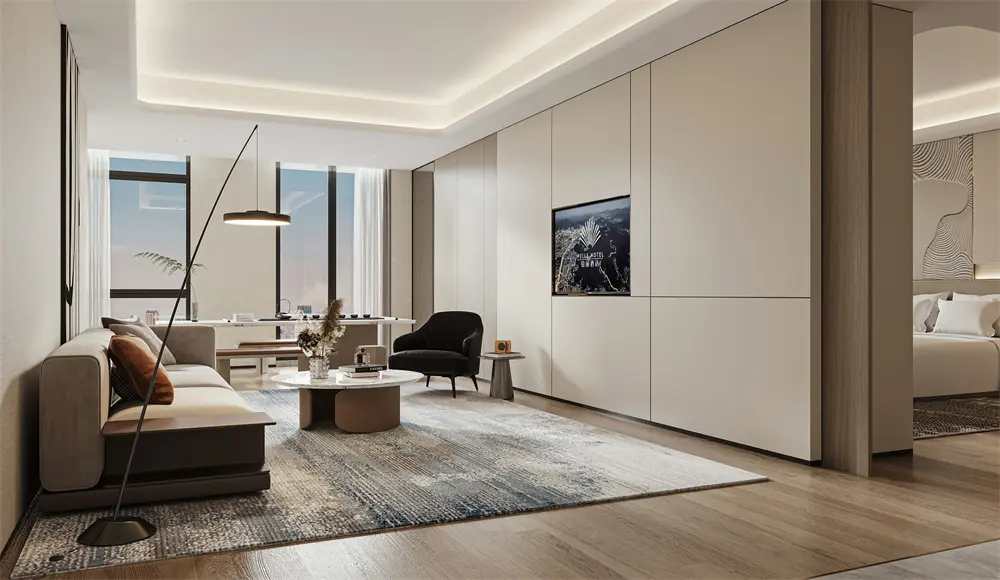 Co-founder, art director and artist of HDE China Air, studied in the Space Design Advanced research Class of the School of Fine Arts of Tsinghua University, 2017 National Top Ten Furnishings Art elite, senior interior designer, excellent designer of Chinese and Western cultural exchange, selected as the national "Great Designer TOP100" honor in 2021, Led the team to win more than 20 national professional design awards. Baidu, NetEase, Sohu, Zhihu, Toutiao, China Decoration News Network and China Architectural Decoration Design Award for special reports, Changsha City young and middle-aged writers and artists,2021 selected one of the 100 outstanding contemporary calligrapher.
His calligraphy works have been exhibited in Calligraphy Institute of Peking University, Shenzhen Art Museum, Shenzhen Guan Shanyue Art Museum, Shenzhen Luohu Art Museum, Tianjin University Art Museum, Hunan Bamboo Slips Museum, Hunan Art Museum, Hunan Culture Museum, Hunan Traditional Chinese Painting Museum, Changsha Art Museum, Fujian Longyan Art Museum, Shanxi Calligraphy and Painting Academy, Tan Guobin Contemporary Art Center, Meilu Art Museum and other places around the country On display, "Shenzhen TV", "Calligraphy", "Calligraphy newspaper", "Calligraphy Guide" and "Chinese Calligraphy and Painting Newspaper" have published or collected works and special reports.
Design special honor:
Excellence Award of the second "Gaedi Award" Decoration Art Design Invitational Competition in 2015 (Guangzhou)
Excellence Award in 2015 CIID Display Art Invitational Competition (Hangzhou)
3, 2015 International Space Design Award Aite Award Best Furnishings Art Award (Shenzhen)
4, 2016 Jin Yitao Human Settlement Space Design Competition Best Popularity Award (Guangzhou)
5, 2016 Asian Interior Design Competition Excellence Award (Hangzhou)
6, 2017 "Unexpectedly Design Cup" Home Design Award Lighting Design Excellence Award (Beijing)
7, 2017 Shanghai International Architecture Interior Design Festival "Golden Bund Award" Best Display Art Award (Shanghai)
8, 2017 Enjoy Home Cross-Strait four places Interior Design Grand Prix (Residential space category Silver and bronze Award) (Zhuhai)
2017 IDS International Design Pioneer List Gold Award Nomination (Taiwan, China)
10, 2017 "Six Arts Award" Furnishings Art category Annual Top Ten Design Elite Award (Taiwan, China)
11, 2018 Shanghai International Architecture Interior Design Festival "Golden Bund Award" Furnishing Art Award (Shanghai)
12, 2018 CBDA China Soft Decoration Art Festival Residential Space Category Silver Award (Beijing)
2018 IDS International Design Pioneer List Gold Award Nomination (Taiwan, China)
14, 2019 Hunan Boiling Point Design Award Decoration Art Design Nomination Award (Changsha)
15, 2019 IDS International Design Pioneer List Gold Award nomination (Taiwan, China)
16, 2020 IDS International Design Pioneer List Bronze Award (Hangzhou)
Bronze Award in the Exhibition Category of China International Space Design Competition 2021 (Shenzhen)
18, 2021 Shanghai International Design Week China Soft Decoration Design Award "Jinwei Award" Nomination Award (Shanghai)
First Prize of Space Aesthetics Category in 2022 Decoration Cup China Decoration Design Exhibition (Beijing)
Design China Exhibition 2022, Best Space Design Award (Guangzhou)
Bronze Award in Residential Space Category of China International Space Design Competition 2022 (Shenzhen)
Character Award of the French Janus Design Award 2022 (France)
IDA International Design Honor Award 2022 (Only in Hunan Province) (USA)